This page notes the additions and updates made to Finix. For changes to the Finix API and how to update your API version, see Versioning.
March 2023
Updated Finix Team Members & Roles in the Finix Dashboard
This feature enables customers to manage their Team Members, Roles, and access levels in the Finix dashboard. These enhancements make it possible for administrators (those with the highest level of access) to add, customize, and manage the users from their company, directly in the Finix dashboard. Managed permissions provide enhanced security and limit who can see sensitive payments data.
In the Finix dashboard you can now easily:
Add and deactivate team members
Assign different permission-based roles
Create custom roles to address unique business needs
The variety of configurable profiles to choose from include:
Customers can seamlessly manage which team members have access to their company's dashboard and their specific permissions, deactivate users who no longer need access, as well as create new custom roles tailored to their unique user requirements.
A common example of a custom role you might create is for an outside accountant, who may need access to specific data for a set amount of time during the year. Start managing your team's roles and permissions here.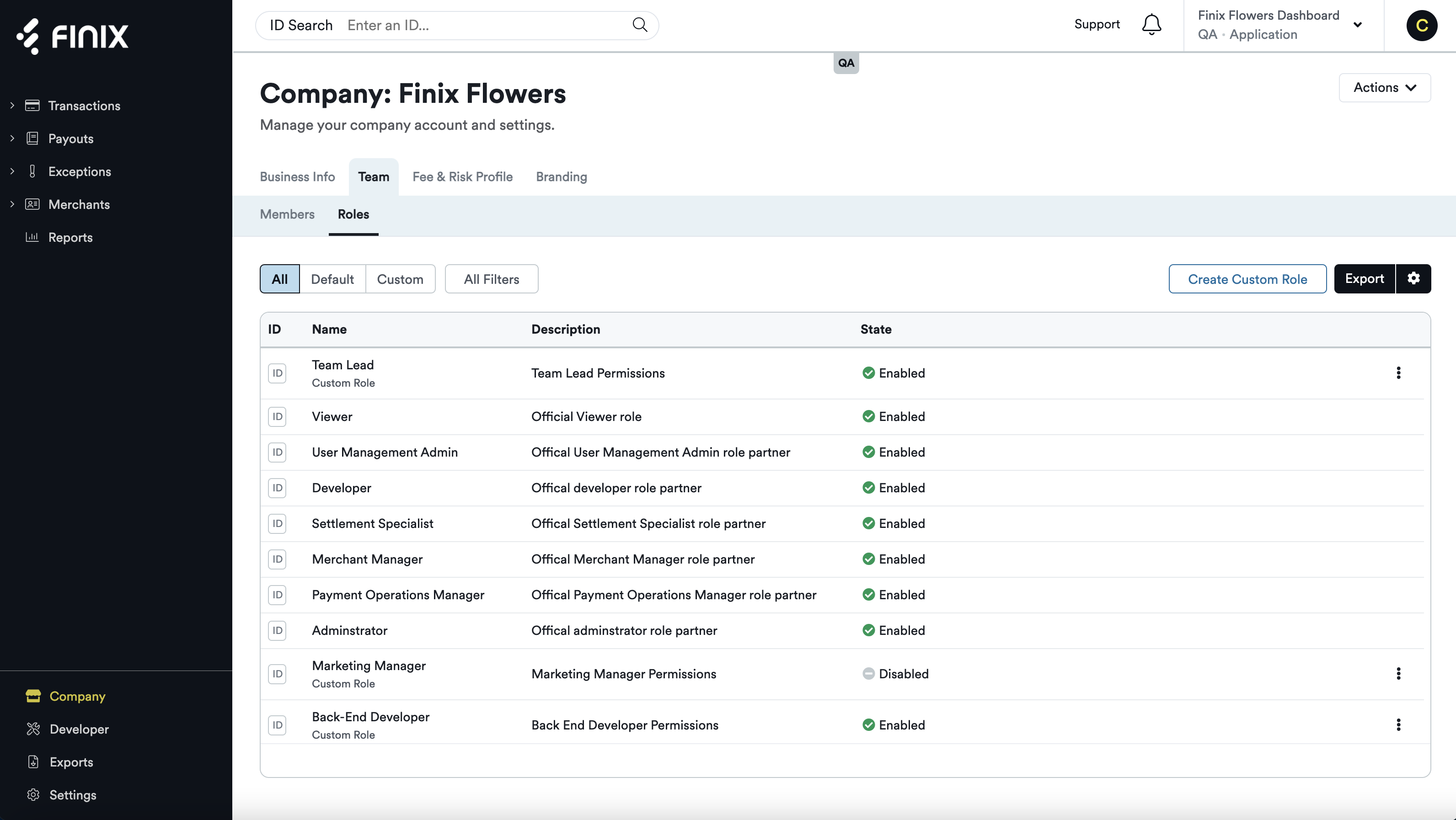 Webhook Event Logs
From the developer section of the dashboard, users can now review logs that detail all the webhook events they've received. Developers are also able to receive dashboard and email notifications about webhook events they've received.
With an easily accessible log you can check at any time, it's an easier path to debug, troubleshoot, and audit the activity you process.
The webhook events log allows you to:
Review how webhooks are configured
Review a history of all webhook event attempts
Filter webhooks by attempts and troubleshoot any failed events
Reattempt events that have failed
Enable email and in-dashboard notifications for failing webhooks
Improved Search Functionalities - Find the info you need more easily
Customers now have the ability to search for tags in the dashboard.
You can now search the following resources by the keys and values of any tags that have been applied:
Authorizations
Transfers
Payment Instruments
Identities
Customers can also search for tags in the Finix API using our new tag filters, allowing you to enable more functionality with our system and the ability to link your own system's IDs with Finix.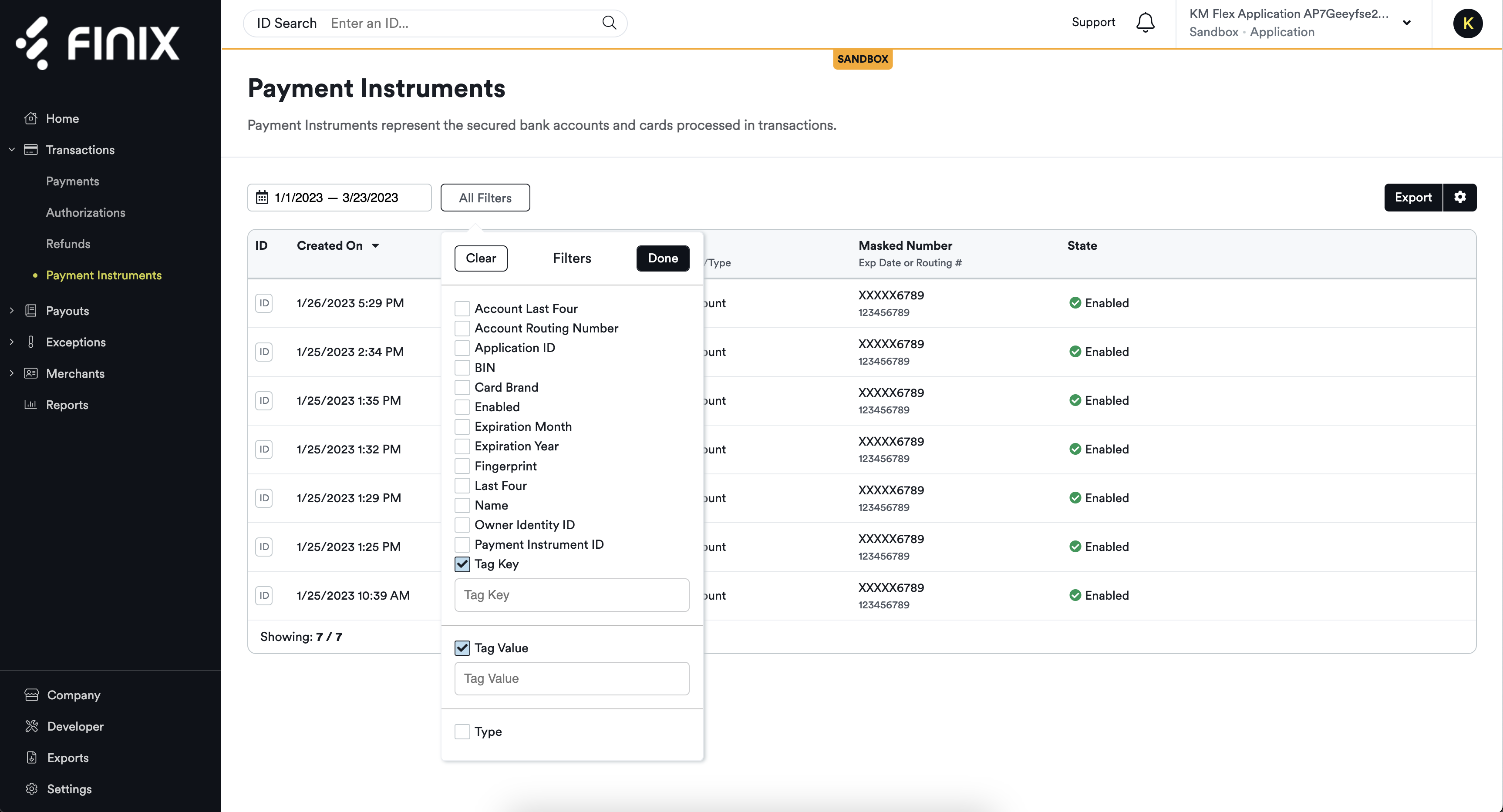 We've also made general improvements to the logic around our search! You can type partial words or terms and we'll return all results that include that partial search term.
Max Transaction Limit on ACH
Using our API, customers can set a different maximum transaction limit for ACH Direct Debits than the maximum set for Credit Card transactions. This gives you flexibility with ACH Direct Debits and allows you to create a maximum transaction limit specifically for ACH transactions.
For more details see the ach_max_transaction_amount field.
February 2023
Android Mobile Tokenization
Android Tokenization enables you to accept and tokenize payment details in your Android app without exposing yourselves to PCI risk.
This completes the rollout of our tokenization offerings, which now includes: web, iOS, and Android.
Test ACH Returns in Sandbox
You can now test ACH Returns in your sandbox! This enables you to test scenarios, process failure reasons, and help your sellers understand how to handle failed ACH payments–all in a test environment. Tests include:
Insufficient Funds
Account is Closed
No account on file
Invalid Account Number
For more details, see Testing ACH Returns.
December 2022
December 15, 2022
Dashboard Updates
This is the last of a three-part release to refresh the user experience of our entire dashboard. The additional user experience improvements include reorganizing the Application, Merchant, and Push-to-Card pages to simplify where to find the most helpful information and make finding that information more intuitive. The changes made to the dashboard the past three weeks should help you complete tasks more quickly and efficiently–for example, by using new filters to easily create on-demand reports for information you're seeking, or using the click-to-copy function to accurately and efficiently transfer data to external databases.
For more information about what's available in the Finix Dashboard, see Finix Dashboard.
November 2022
November 17, 2022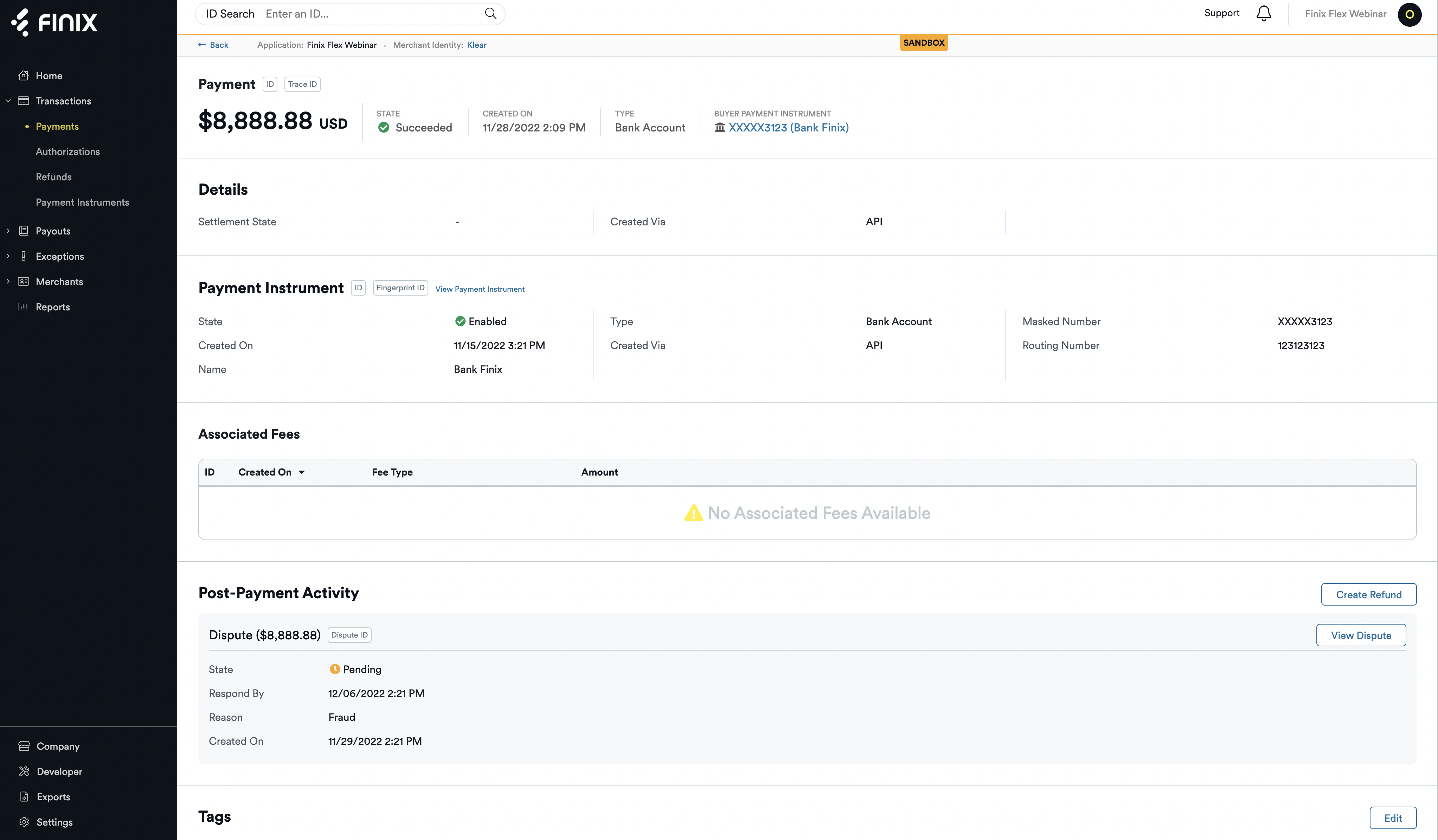 New Dashboard Designs, Embedded Onboarding Forms, & Payout Settings
Thanks to the collective feedback from our customers about the Finix Dashboard, every page of the Finix Dashboard has been redesigned, focusing specifically on how content is organized, utilized by different teams (such as features catered to developers and to payment operations), and laid out for greater clarity, discoverability, and ease of use. This release kicked off the implementation of those designs.

We've updated naming conventions to be more intuitive, for instance: "Transfers" that are buyer purchases are now called "Payments" in the dashboard. Payments now appear along with "Authorizations" and "Refunds" in the "Transactions" list in the left navigation bar of your dashboard.

We've better organized pages within each section of the dashboard, and added more filters so you can easily sort and report on information you want to see at any given time. These filters are also helpful to pull on-demand reports from the dashboard so that you don't need to wait for settlement reports, which come at the end of the day and include comprehensive information, which may not be needed if your goal is to extract a finite set of information from a given time period. These reports can be found in your exports section of the dashboard–at the bottom left–so you can go back and reference them at any time. You can also download them as a CSV file.

Lastly, we improved the settlements experience with detailed page headers that showcase the payout type of a given transaction (such as net versus gross payout type).

We released an entirely new suite of payment terminals for In-Person Payments including the addition of new Finix Mobile SDKs and new Finix APIs so that you can choose the software and hardware pairing that works best for your business.

You can now white label using your own branding with Finix!

You can now white-label, or customize your dashboard, your merchants' dashboards, and embedded merchant onboarding forms using your own company branding - including your company logo and colors.
White labeling creates a consistent user experience for your merchants which can lead to increased trust and translate to a higher willingness to complete onboarding more quickly.